(This article was first published in Horisont magazine, Gotland no 48/ May-June 2019)
It was by coincidence that Jad Masri from Lebanon came to Gotland. While paying his Swedish half-brother in Stockholm a visit, he had the idea of applying for an education in Sweden and his choice fell on the Programme of Game Design at Uppsala University. The fact that campus was located on an island completely unknown to him far out in the Baltic Sea came as a surprise. Horisont magazine brought him to yet another undiscovered island – and took part of his story during the road trip to Fårö.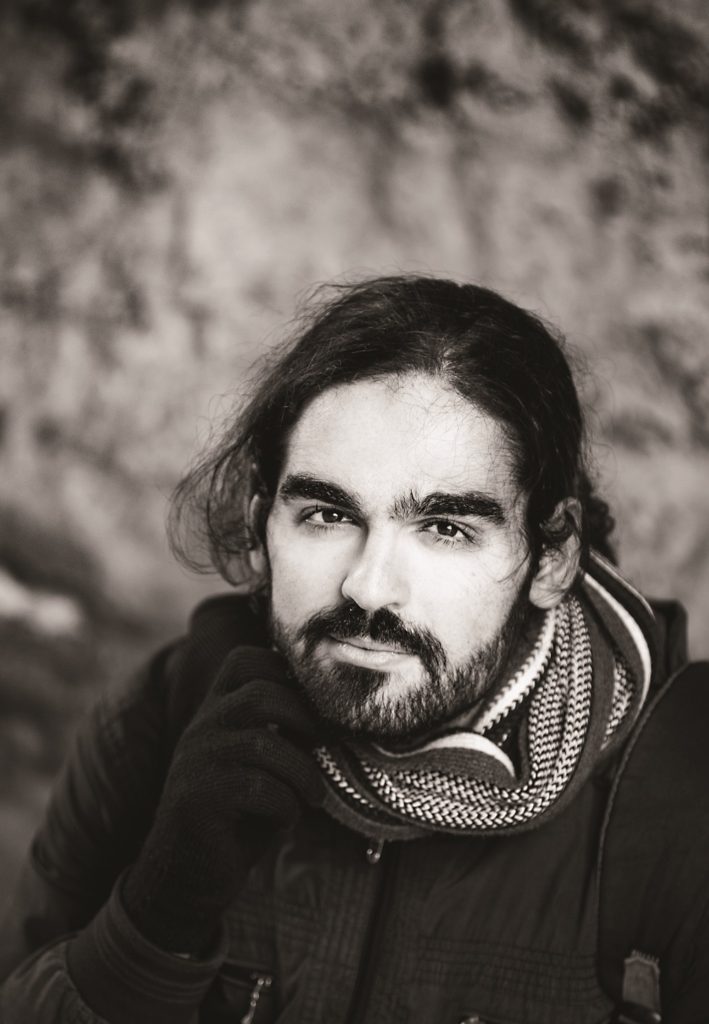 When Jad Masri describes the snowclad mountains in the interior of Lebanon he makes it sound like a fairy tale. At the same time, we trail the narrow coastal road lined with sculptured sea stacks or "raukar", windblown dwarf pines and the sea with its turquoise and grey stripes, through the rugged, flat landscape of Fårö that he calls "a fairy tale". A drowsy Sunday in February.
My first impression was the open sky. I reached Gotland by ferry one day late in August. My biggest issue with major cities like Beirut, where I grew up, is that you can't see the sky because pollution and tall buildings hide it from your line of vision. For me, Visby represents beauty and freedom, despite the wall encircling it: the landscape enfolding it, the squat little houses and the clear sky above us. No matter how many times I wander along the north wall down toward the sea, I always spot something new. I've never noticed as many details in nature as I have here because I get so close to them on a daily basis.
That first day on the island, I took the bus to the student area where my home would be for three years. When my training, the International Bachelor Programme in Game Design and Programming, commenced a few days later, I made friends immediately. Something I really appreciate with student life in Visby is that everyone lives so close to one another, which makes it easy to hang out often and spontaneously. Most people in my class have travelled here from different parts of the world, just like me. It's really interesting with so many different mentalities, opinions and backgrounds. Meeting new people is one of my favourite things, because I'm curious about how other people think about different things in life.
I was ten years old when I came to Sweden for the first time to attend my brother's wedding. When I visited him and his family in Stockholm a little more than a decade later, we discussed the possibility of studying here. When I looked around on the Internet, I found the training program in game design. I thought that I would study in Uppsala and then to my utter surprise I realised that the university had a campus in the middle of the Baltic Sea. It was a happy coincidence that I ended up here.
Computer games have always been a big part of my life, both as an enjoyable hobby and as something that has helped me through rough patches, as an escape from the problems and hardships of reality. It's like jumping into a pair of magic shoes and becoming something that you can't become in real life. When you play a game you always discover something new and different. That's the really amazing thing with creating games, the fact that you can place people in another world where they can experience adventures far from everyday life. It's an experience that is just as powerful as reading a book or watching a movie, if not more powerful because at the same time, in addition to the visual and intellectual experience, you get to interact with this fantasy world. In some games the decisions you make can influence the course of the story and determine how it ends.
During the summer, I travel back to my parents and family in Lebanon. My father is 79 years old and still goes to work to make it possible for me to study. I didn't hang out much with kids of my age when I grew up. My brothers and sisters are considerably older and all of them had left home by the time I was born. The proximity to war and unrest forced me to grow up and become an adult at an early age.
I come from a country where you know everyone in your building, literally. I'm talking about ten storey buildings with multiple apartments on each floor. You want to get to know your neighbours to see if they can become your friends. A few years ago, I spent three months in Stockholm. I stayed at my brother's place in Solna and tried to learn Swedish. I often went out walking, but not once did I meet the same person twice. Over here you bump into each other all the time, I don't feel anonymous in Visby.
Gotland feels like a true home, a perfect fit right from the start. It was love at first sight. For me the definition of home is a place where you can feel comfortable, where you can relax and where you don't need to be on your guard at all times. I feel safe here, a feeling I have longed for, searched for and found. I didn't know what to expect when I arrived, I didn't know that it would be so easy to settle in here.
I have a dream. I would like to stay here on Gotland, or at least in Sweden, after my training, but I'm aware that the path through bureaucracy and complicated visa regulations is difficult. If I manage to get a secure job in the gaming industry right after graduation my dream can come true. I'm afraid to look that far ahead, even though I only have one year of studies left. I want to be here in the present.
We end our road trip on Fårö with a Swedish "fika" at Elsie's café. After having traversed small desolate roads along the coastline at Digerhuvud, breathed in the smell of tar at Helgumannen fishing station and strolled from the lighthouse in the blinding February light on the soft sands of Norsta Aurar, we are startled by voices other than our own. In a side room a knitting circle has assembled, drinking tea as they chat and crochet. At the table just next to ours, two older men are engaged in an intense discussion in thick Fårö dialect and at another a woman is talking about a film script that she's writing. Jad Masri's face lights up when he discovers his favourite dessert among the pastries on display: Mille feuilles. He orders a cake of a thousand leaves.
As told to: Maria Molin
Photography: Sveds Signe Söderlund
Translation from Swedish into English: Mathias Westin
Read the text in Swedish here.